Our wireless dual-purpose system can act as a driveway alarm and/or free exit system. Sensor is self-contained, housing an internal transmitter and antenna. Absolutely no trenching and installs in under an hour. Install sensor beside driveway, in the driveway, or on a post adjacent to the drive.
Components (included with system): (1) Sensor puck; (2) Integrator; (3) Auger screws; (4) Batteries & clips; and (5) Terminal block screwdriver

*NOTE* In order to get the 12 to 14 feet of detection, the vehicle must pass the sensor traveling at least FIVE MPH. Do not place sensor in close proximity to the gate as it will not operate as designed. Test the application with a vehicle prior to final installation.
CW-SYS Wireless
CW-SYS is a wireless dual-purpose system that connects to existing security/home automation systems and gate operators.
Add wireless vehicle detection to existing security/home automation systems, connecting to their cameras, sounders, etc. Also, seamlessly connect to any electric gate operator (not appropriate for ALL SOLAR gates, check technical specifications due to 25mA standby current draw from Integrator) for free exit, whether residential or commercial.
For more information, see sell sheet.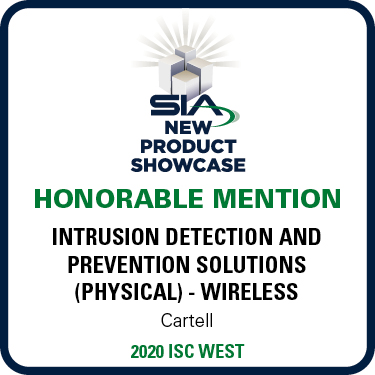 Winner of SIA
New Product Award